Capacity: 27 or 31 passengers

Panoramic front viewing window

Frameless coach windows

Electric plug entry door

DVD player with premium rear audio

State of the art LCD monitors with 4 viewing screens

Roof-mounted HVAC with heavy duty climate control

LED interior / exterior lighting

Passenger-retractable seat belts

Altro hardwood flooring

High back captains chair style Leather seats

PA system with overhead speakers

Alcoa wheels

Air ride (Ultra Ride) shock system

110V/ USB outlets in every row

Additional microphone with long cord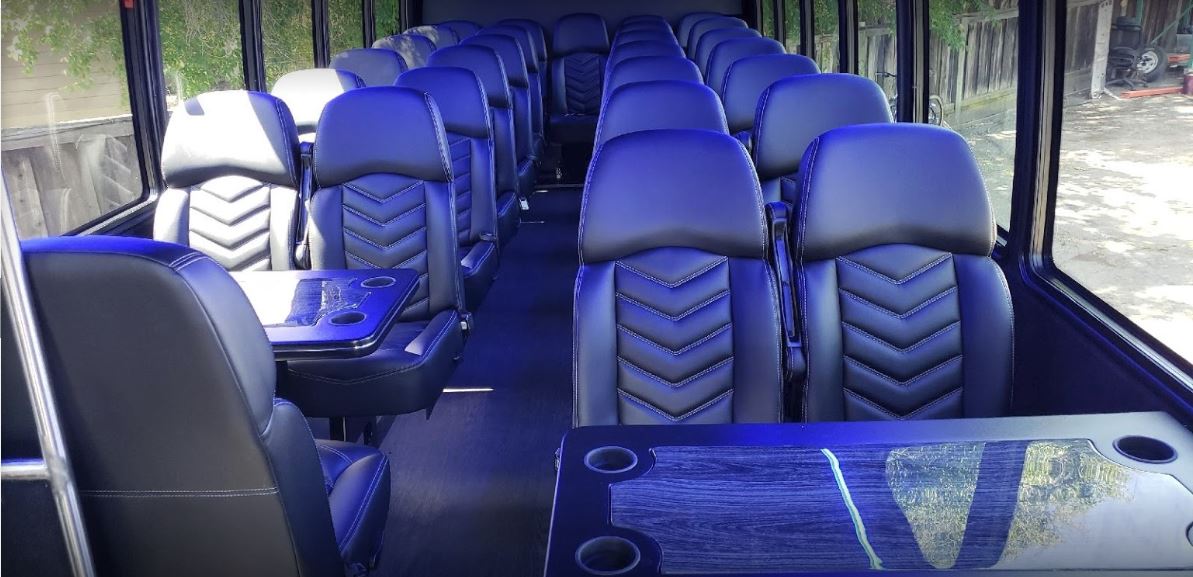 Top Benefits of Riding this Motorbus:
Perfect for mid to large group size.

Reduces number of trips for large event shuttling, such as weddings, corporate events and awards ceremonies.

Perfect for tours that need a working PA system.

Works great for corporate road shows and presentations.

Outstanding options for long haul trips where flying multiple passengers is not a cost effective option.

A popular choice for professional and collegiate athletic teams.
Why Is this In Popular Demand?
This type of vehicle is in demand due to high-end clients that need to simplify large group transportation logistics. All passengers can be accounted for into one larger passenger vehicle as opposed to chartering multiple smaller vehicles. This is especially useful when all passengers are being picked up from and taken to the same destination.
Its also useful for corporate road shows where there are multiple stops along a hourly chartered itinerary and passengers need to engage and discuss business with each other in between each stop.
The vehicle is often used for large events with multiple passengers that need to be shuttled back and forth between event venue and accommodations. This works great for wedding parties and corporate events where selected groups can be loaded onboard and shuttled to their destination. In the meantime, the venue coordinator begins to organize the next group for transport and so on. This staggered manner of group transport is used to manage and optimize large group shuttling.